WORKSHOP – Oil/Acrylic with Patrick Saunders (#1)
Additional Event Information:
Patrick Saunders will offer a workshop on Friday, April 27, 9:30 AM to 3 PM. Patrick has won multiple awards at the Augusta Plein Air Art Festival. Sign up now to share a day with Patrick, call 636.228.4005 to reserve a space in his workshop.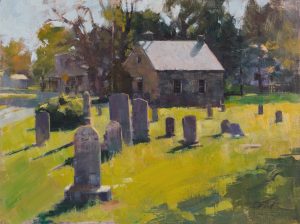 Stones, Femme Osage won Artist's Choice, 1st place oil and Best of Show.

Learn to paint any subject, from the most simple to complex with one approach. During this workshop, we will use the landscape as our subject, but the same approach can be applied to a still life, portraiture, etc. The instructor will demonstrate the process of simplifying the subject and moving to finish as rapidly as possible in order to add more energy and excitement to your painting. Students will learn about composition, value, texture, color temperature and accuracy in paint application.
Oil and Acrylic painters of all skill levels are welcome to this workshop. Sorry, we will not be focusing on watercolor.
Please come prepared with at least 2 of your preferred painting supports (canvas, panel, board, etc.) at least 9"x12" in size. A suggested materials list will be provided prior to the class.

LOCATION: Meet at the Harmonie-Verein at 9:00 AM to sign in, then the group will head out to the workshop location, Femme Osage Haus.
FEE: $95/person
Maximum number of students: 15
Lunch will be provided.