Final Sale from Easel and Awards
May 1, 2021 @ 11:00 am

-

4:00 pm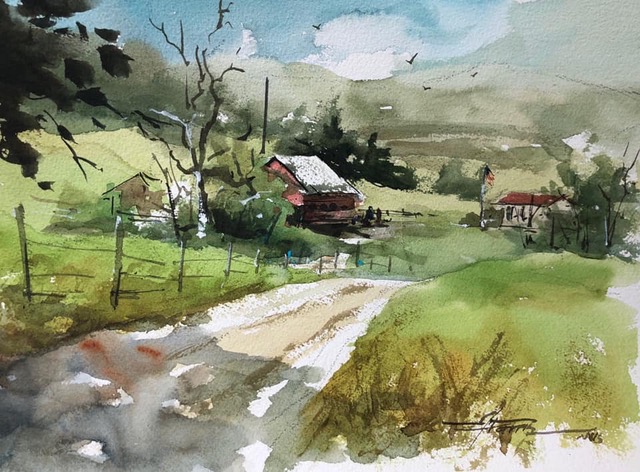 2019 Best of Show "Augusta Moment" by Alicia Farris
11AM – 4PM  Enjoy an afternoon in Augusta. Browse the Final Sale at the Augusta Harmonie Verein, as just under 100 Plein Air Artists display their body of work from the 2021 Augusta Plein Air Art Festival.  Visit to the shops and wineries of Augusta, and join in the Augusta Harvest Festival activities.
Augusta Plein Air Scholarships will be announced at 11:00 AM.
The Show and Sale opens with the announcement of Augusta Plein Air Scholarships at 11:00 AM, followed by the announcement of Art Awards. 1st, 2nd, 3rd Place and Honorable Mention are awarded in each of the following mediums:
Oil
Acrylic
Pastel
Watercolor
Mixed Media
Additional Awards include the Best of Show, Artists' Choice, and Peoples' Choice.
Find your Favorite Artists at the Sale:
Booth Assignments

1.  Streiff,Michelle
2.  Finnell,David
3.  Laupp,Alison
4.  Cooper,Karen
5.  Coulter,Marty
6.  Bishop,Bonnie
7.  Rosario,Teri
8.  Pepmiller,Rhonda
9.  Woolsey,Manuela
10.  O'Connor,Brent
11.  Gragg,Jennylynne
12.  Goldsmith,Caroline
13.  Lewis,Farley
14.  Lammert,Gin
15.  Dean,Jo Jasper
16.  Baber,Gabriele
17.  Dowdy,Denny
18.  Shaw,Cindy
19.  Phelps,Mike
20.  Green,Jamie
21.  Williams,Deborah
22.  Rogers,Susan K.
23.  McFarland,Lorrainne
24.  Clausen,Paige
25.  Haake,Elaine (Laney)
26.  Jackson,Teddy
27.  Dickerson,Tammie
28.  Rhys,George
29.  Green-Metzler,Linda
30.  Wiegand,Julie
31.  Thomas,Craig
32.  Whytock,John
33.  Kublanov,Konstantine
34.  Buchs,Thomas
35.  Beazley,Gary
36.  Patterson,Christi
37.  Smith,D'Ann
38.  Poe,David
39.  Fifer,Susan
40.  Robben,Diane
41.  Folwarczny,Dianna
42.  Parkhurst,Tracy
43.  Holtzmann,Arleana
44.  Manthei,Joy
45.  Peacock,David