WORKSHOP – Pastel with Michele Wells
April 21, 2018 @ 8:30 am

-

2:30 pm
Michele Wells will be offering a pastel workshop on Saturday, April 21, 8:30 AM to 2:30 PM.Sign up now to share a day with Michele, call 636.228.4005 to reserve a space in her workshop.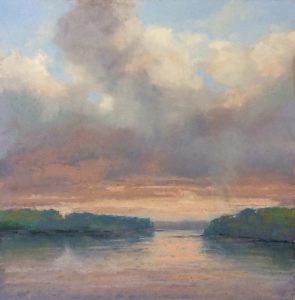 ,
Painting by Michele Wells, 1st Place at the Washington, MO Sunset Paint Out.

All levels of ability are welcome. The workshop will consist of showing you how to simplify the scene and choose a composition. Block in shapes and values by doing an under-painting either in pastel or watercolor. Michele will start the morning by showing you how she chooses a composition, start and hopefully finish a painting. We will also go over using a limited color palette. The remainder of the day will be your time to complete a painting for yourselves under Michele's instruction.

Bring your plein air supplies. A small sketchbook, pencil and viewfinder will be very helpful along with your pastel supplies. Bring your easel if you have one. Michele has some easels that she can lend out. First come first served. She will have a small selection of sanded pastel papers for anyone to purchase if you would like to try them.

Pastel Supply List:
You will need something to hold your gear. A backpack or bin and cart.
Easel of some kind is best, but table and chair is okay if you can't stand up for long.
Drawing board (Foam-core is ok. It's best if it is a little bigger than your paper so the wind doesn't catch it.)
Pastel papers (I like sanded papers and they need to be mounted if doing watercolors). I will have exta for you to purchase
Glassine (or tracing paper to protect finished painting)
Masking tape (cream color)
Pastels
Wet wipes
Skin barrier (optional)
Large black plastic bag
Small Plastic trash bag
Paper towels
Bungee cords
Sunscreen
Hat & gloves
Bug spray
Apron (optional)
Pencil box (pencil/ pastel pencils/ sketch pad/ viewfinder/blenders/ sharpener/ eraser)
Notebook
Watercolor pallet (Optional- I will show watercolor under-painting technique)
Brushes
Water and container
Camera (extra battery or charger)
Umbrella (there are many options) This item is optional.
Proper clothing (neutral colors)
Proper shoes

LOCATION: Artists are asked to arrive at the Augusta Harmonie Verein Hall at 8:15 AM to check in, workshop introduction starts at 8:30 AM. Artists will be given directions to proceed to the selected workshop location.
Maximum number of students: 15
Lunch will be provided.
Michele's email: wellsart@sbcglobal.net