***** This page is in work, instructor artists' profiles and supply lists are being updated *****
2019 Workshops
| | | | | | |
| --- | --- | --- | --- | --- | --- |
| Date | Media | Instructor | Fee | Time | Description |
| April 24-25 | Oil | Nyle Gordon | $170 | 9am – 4pm | 2-day Workshop |
| April 26 | Oil/Acrylic | Gil Adams | $75 | 8:30am – 3pm | For artists new to Plein Air |
| April 27 | Pastel | Lorraine McFarland | $75 | 9am – 4pm | Surviving the Plein Air Experience |
| April 27-28 | Oil | Larry DeGraff | $85 | 5:30 – 8:30pm | Painting Dramatic Light at Sunset – 2 evenings |
| April 28 | Pastel | Carol Strock Wassen | $90 | 9am – 3pm | Planning to Plein Air Paint with Pastel |
| April 28 | Oil | Greg Summers | $80 | 12 – 6pm | Painting Lickity-Split |
| April 29 | Oil | Henryck Ptasiewicz | $tbd | tbd | tbd |
| May 1 | Watercolor | Spencer Meagher | $85 | 9am – 4pm | |
| May 2 | Acrylic | Michael McClure | $85 | 9am – 4pm | Putting People in Paintings |
| May 3 | Oil | Tim Tyler | $ | 9am – 4pm | |
| May 4 | Oil | Gabrielle Baber | $75 | 8am – 2pm | |
| | | | | | |
Nyle Gordon – Wednesday, April 24 & Thursday, April 25, 9am-4pm, $170 per student, # of students. 2-Day Oil Painting Workshop.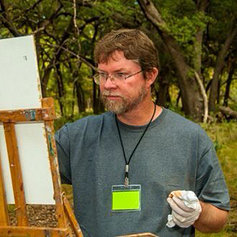 Born in Independence Missouri, Nyle was profoundly influenced by the people and environment of America's heartland. After graduating in 1984 from the University of Central Missouri, he embarked on a career in art exposing him to many disciplines. In 2004 Nyle left the corporate arena to pursue his first love of painting and returned to live near the family farm. Today, Nyle's time is divided between studio and outdoor Plein air painting. Nyle is a representational painter who favors the strong use of shadow in his work. Structure and form are established early in the process and are intrinsic in clarifying a sense of space. There is a quality to Nyle's work that often elicits an impassioned response in the viewer.

Workshop Details:This two day outdoor workshop is for beginner to advanced painters. Nyle will begin the day with a demonstration, followed by a discussion of the day's agenda. Students should expect to complete one to two paintings during the course of each day. Demonstrations and instruction will be in oil. Emphasis will be on interpreting and simplifying the landscape. Students will be encouraged to do quick, simple sketches before starting paintings. We will be covering the basics of composition, value, color and edges. Questions and discussion are encouraged. Nyle has a casual and inclusive approach to teaching that puts students at ease. Making the rounds to individual students throughout each day will be a priority.


Gil Adams – Friday, April 26, 8:30am-3pm, $75 per student, 5-10 students. Oil Workshop for Beginning Plein Air Artists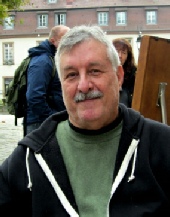 Gil Adams attended the University of Arkansas and graduated from Oklahoma State Tech (Oklahoma State University, Institute of Technology) and began work at the University of Oklahoma after graduation as a graphic designer. He soon migrated to Tulsa, Oklahoma to begin work as an art director at KTUL television, eventually ending up at Phillips Knight Walsh Design as a designer/illustrator. In 1990, he began his own freelance business and began working on projects for clients such as Oracle, Simon & Schuster, the Wall Street Journal, the Washington Post, Fortune Magazine, Merrill Lynch, American Airlines, the U.S. Navy, the Chicago Tribune, Hanson (the band) and Green Giant, among others. During this time, he also taught several illustration classes at Oklahoma State University in Stillwater as well as OSUIT.

Now, he devotes his time to painting and participating in plein air events across the Midwest as well as teaching private workshops in his studio in Tulsa. Gil and his wife Judi live in the Brookside neighborhood of Tulsa.

Workshop Details: Gil will spend the first hour with a demo. Typically taking it to the point of being 3/4 done with the image and then get the students started on theirs. During the remainder of the time, he circulates among the students to offer suggestions and guidance. He will go back to his painting periodically to demonstrate various techniques. such as showing value, contrast, composition, etc. He encourages the student to ask as many questions as they want. By the end of the afternoon, each student will have a finished painting if everything goes as planned.

Students will bring their own art materials (paint, brushes, canvas, easel, etc).

Lorraine McFarland – Saturday, April 27, 9am-4pm, $75 per student, 4-8 students. Surviving the Plein Air Experience





Born and raised in St. Louis, Lorraine has traveled a long and winding road on her way to becoming an accomplished pastel artist and teacher. This path has taken her from administrative work to bartending, to wallpapering, to wild life management, to photography, to physical therapy assistant and ultimately to uncovering her talent and love of art, in particular pastel painting in both plein air and her studio.

Artist Statement: I feel a responsibility as an artist to evoke an emotional response in the viewer of my work. I choose subjects from nature that move me in a way that allows me to proceed from instinct rather that rational thinking – that is, in a visceral way. By using this visceral reaction to render what I see, I hope that the leap we must make from 3 dimensions to 2 becomes a non-issue and will put the viewer in that particular place at that particular moment in time. Nature's grandeur and creatures provide me with beautiful form, color and light. I experience joy while painting with pastels in particular because those colors and light are so impeccably achieved by layering and juxtaposing different pastels on various surfaces.

Workshop Details:
additional info tbd

Larry DeGraff – Saturday, April 27 & Sunday, April 28, 5:30pm-8:30pm, $85 per student, 5-15 students.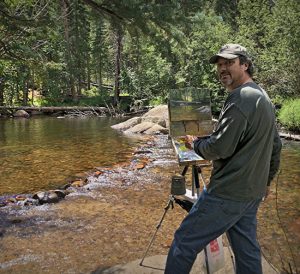 It's not unusual to find Larry DeGraff at the end of a dirt road, brush in hand, trying to capture the light unique to that place and time. His goal: to share the beauty all around that we are too busy to see.

Larry showed impressive artistic talent at a young age and developed his skills towards a career in illustration. He eventually built a client list that included Warner Brothers and the Walt Disney Company. In the midst of tight deadlines and constant revisions, Larry missed the joy of creating that he remembered from childhood and began to paint for himself. He found inspiration in the Impressionists and the Hudson River School. Along with studio work he committed to painting outdoors which he found both a fast track for creative growth and a good excuse to be outside. In 2011 Larry left his job as a Hallmark Cards artist to pursue painting fine art full time. He has since won many awards in juried national exhibitions and competed in over 50 plein air events. He is represented by galleries in Missouri, Kansas and Colorado. His work has been featured in Southwest Art magazine. Larry and his wife Gina live in Ozark, Missouri.

Workshop Details: The first evening I do a demo with discussion and handouts. The second evening the students go for it and I give one-on-one instruction. Of course all of this is contingent on weather.
additional info tbd

Carol Strock-Wasson – Sunday, April 28, 9am-3pm, $90 per student, 10-12 students. Planning to Plein Air Paint with Pastel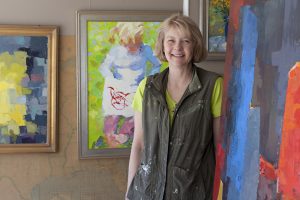 Carol Strock Wasson is devoted to plein air painting and is always venturing forth into new areas with pastel or oil. She is focused on painting with spontaneity and freshness. Her dedication is evident in awards and entry into prestigious shows across the country. Top awards include the Silver Medal Award at Indiana Heritage Arts in 2007, a prestigious Indiana exhibition. Other shows include Hoosier Salon, Arts for Parks, Pastel Society of America, and Pastels USA. She has also been a featured artist at the Door County Plein Air Festival in 2008, 2012, 2013, 2014, 2015. Carol was one on ten artists to participate in Painting Indiana II, the second in a series of books produced by Indiana Plein Air Painters Association (IPAPA) and Painting Indiana III. She is a supporting member of numerous organizations locally and nationally. Her work can be seen at Strock Wasson Studio, Gordy Fine Art, Muncie, Indiana and Editions Limited Gallery of Fine Art, Indianapolis, Indiana.

Workshop Details: This is a fast paced one day class. In the morning I will demo the importance of planning your painting using compositional structures and choosing a color harmony. I like to teach the importance of using these tools to strengthen your painting while finding your own style. Afternoon Sessions will be plein air, weather permitting, individual attention will be stressed with quick demos throughout the afternoon to help clarify ideas and techniques, as needed.

MATERIALS LIST:

Sturdy Plein Air easel to hold your pastels or a sturdy table with stand-alone easel.
Color Wheel, Viewfinder, Grey Scale, and Value Finder.
Sketch Book withg pencils or markers.
Assorted soft and hard pastels.
4-8 small painting surfaces of your choice, for color thumbnails. Suggested size is 6×8, 6×6. Suggested surfaces are Uart or any sanded surface.
2-3 larger painting surfaces to execute your idea. 9×12, 11×14, 12×16 preferred surfaces are Ampersand pastel boards, mounted Uart papers, or sanded papers taped to a rigid board.
A rigid surface and tape or clips.
2-3 sticks of vine charcoal.

Optional but nice to have available:
Glassine paper and painter's tape to wrap finished pieces for transport.
Wet wipes, hat or visor, sunscreen, bug spray, umbrella, chair, etc.
A rolling grocery cart or suitcase is very helpful.

If you have any questions please call, text or email! Cell is 937-459-6492 and email is carol@strockwasson.com

R. Gregory Summers – Sunday, April 28, 12pm-6pm, $80 per student, 6-12 students. Painting Lickity-Split, "learning to paint better with a limited time and a limited palette".




Summers was chosen in 2017 by the top 5 American art publications for the "Artists of the New Century" exhibit at the Bennington Art Gallery. Summers has embraced the world of painting outdoors, winning awards from coast to coast alongside the nation's best plein air and studio artists. Summers teaches painting workshops across the country as well as teaching staff at the Plein Air Convention and Expo.

Summers is the former Vice President of the Greater Kansas City Artists Association, co-founder of the Missouri Valley Impressionist Society, and Brush Creek Art Walk: painting competition in Kansas City, Missouri.
Summers is a Signature member of the American Impressionists Society, and the Outdoor Painter Society.

Henryk Ptasiewicz – Tuesday, April 29, tbd.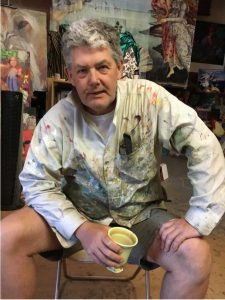 profile here

Workshop Details:
additional info tbd
Spencer Meagher – Wednesday, May 1, 9am-4pm, $85 per student, # students.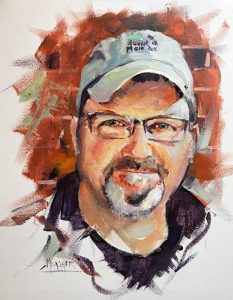 Artist Statement
"Deep within my spirit lies a need to express myself that can only be realized through my art. My paintings are a realistic glimpse into how I view the world around me. I tend to avoid the details and let the color and value tell the story."

Spencer Meagher first discovered his love for art as a young child. He found he was able to express himself through drawing and painting. He refined his skills over many decades with practice and dedication. As an adult, he has attended many workshops to gain a better understanding of his craft. Spencer now paints full time and travels all over the country attending competitions and shows, as well as, teaching workshops. Spencer is a Plein Air and studio artist who works in watercolor, oil and acrylic. When he is not traveling he works out of his studio in Mt. Vernon, IL.

Spencer's work has taken tops awards in art competitions around the country, and has been exhibited in many notable galleries. His paintings have been featured in publications such as, Plein Air Magazine and Plein Air Today. He has also been mentioned in numerous online articles.

Spencer has studied with renowned artists Alvaro Castagnet, Graham Berry, John P.Lasater IV, Joseph Fettingis, Lon Brauer, M. Shawn Cornell and Sterling Edwards.

Workshop Details: Students will learn as the Spencer demonstrates a variety of techniques for applying paint to paper in a plein air setting. The class will focus on various components and aspects of painting watercolors, i.e. differences in brushes, papers, paint quality, as well as application techniques including washes, splattering, dropping and pouring and dry brushing. When, where and how to appropriately use each tool and technique. Class structure is appropriate for ALL skill levels.

We typically begin with brush exercises designed to get students familiar with color mixing and the fluidity of watercolor. They will then learn various approaches to gradient washes both single color and two-color gradients. Lastly, students will design and paint their own watercolors from life.

Students should bring ample paper for exercise and be prepared to paint as many as two (2) 11×15" paintings each day over the course of the workshop.

WATERCOLOR SUPPLY LIST
Suggested listing of supplies-feel free to bring anything you like to paint with.
Paints – bring the best you can afford. I use a variety of brands. Any professional grade paint is fine. The same color by different manufacturers may vary. This is the list of colors I recommend. Be advised my color palette is continuously evolving.

Sky Blue (American Journey) or Cerulean Blue
Cobalt Blue
Ultramarine Blue
Pthalo Green (Viridian is similar)
Aurolean (Winsor Newton)
Quinacridone Gold (Winsor Newton)
Transparent Pyrrole Orange (QOR)
Perm Rose or Perm Magenta
Alizarin Crimson
Neutral Tint

Brushes – #'s 4, 8, 12 round; ½", ¾", 1", 2" flat; a few old bristle brushes for scrubbing. I use sable mop brushes. Contact me if you are interested in my brushes.
Paper- Arches, Fabriano or Kilimanjaro – 300# strongly recommended, 140# acceptable but may buckle. Other brands are OK, stay away from student grade papers. I also like Arches Watercolor Board.
Miscellaneous – Removable Masking Fluid, suitable container(s) for water, 12 x 16" backboard (masonite or Gatorfoam works great) large enough to tape down your paper, removable masking tape or bulldog clamps, ceramic, metal or plastic art palette, small misting bottle, sea sponge (optional).

Plein Air Specific
Easel – plein air easels are as diverse as the artist who uses them. Find one that works for you. Ideally it will have some sort of detachable shelf that will hold palette, water and brushes.
Umbrella – Another indispensable tool. Keeps the artist shaded and shades the paper so the sun doesn't reflect off the white of the paper. Also, protects your work in the even a shower pops up.
Stool – A lightweight, folding stool is indispensable.
Miscellaneous – bug spray, hat, sunscreen, drinking water, snacks, anything else that you may need.

Come prepared to have a great time!

Michael McClure – Thursday, May 2, 9am-3pm, $85 per student, 5-15 students. Putting People in Paintings.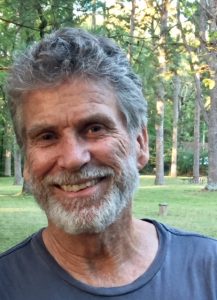 Artist Statement:
When I was in school I was told that representational painting had all been done already and there was no point in bothering with it. It took me 20 years to realize that, point or no point, I still wanted to learn how to paint what I saw. The beauty of the natural world is a constant source of inspiration for me. It has been said, we are not human beings having a spiritual experience, we are spiritual beings having a human experience. My way of expressing my spiritual nature is through my art. Whatever is inside of me, you will see it out there in every brushstroke. I hope that my work will bring you joy when you look at it, just as it has brought me joy in creating it.

I graduated with a fine arts degree from Stanford University in 1972. I began my career as a graphic designer, gradually going into book design and illustration. During that time I started to take some painting workshops, and began to deepen my understanding of fine art.
Over the last thirty years I've studied with some great artists including Harley Brown, Carolyn Anderson, Kevin MacPherson and Matt Smith. Now I enjoy passing along what I have learned about art through classes and workshops.

My work has won numerous awards in art competitions. It is found in both private and corporate collections internationally. I am a signature member of the National Oil and Acrylics Painters Society (NOAPS) and a member of Rocky Mountain Plein Air Painters.
I may be contacted for commissions, murals and portraits. My studio/gallery is open by appointment.
I may be contacted at: artist@michaelmcclure.com
My website is: www.michaelmcclure.com

Workshop Details:
additional info tbd

Tim Tyler – Friday, May 2, 9am-3pm, $tbd, students-tbd.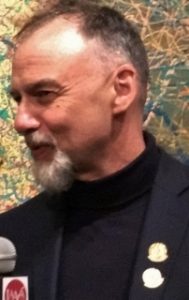 "Tim Tyler is a contemporary artist who works in a representational manner. Inspired by the Old Master's Tyler's skills and technical ability to achieve high levels of realism are impressive, yet it is his visual wit, use of satire and clever method of social commentaries that he weaves into his compositions that elevate his works above practicing realist artists. A respected professional artist, Tyler has a distinctive career and received honorable recognition for his work from notable authorities and leaders in the arts such as the late Charles Banks Wilson."
Aaron Jones, Crystal Bridges Interpretation Manager

Irreverent or comedic, increasingly edgy with underlying meanings, his production is dominated by figurative work. Scores of books and magazines include his creations. Not content with vague allegorical imagery, his paintings are often rather implicit regarding the message underlying the visuals.

Tim has been elected as a "Member Artist" of the Salmagundi Club, elected into International Guild of Realism, elected as an "Out of State" member of the California Art Club. His works have been in top 15 at FASO contests 42 times, finalist 3 times and won Best of Show in 2016, 2017 and 2018. Tim's work has garnered awards at the national level with the Art Renewel Center and the National Oil & Acrylic Painters' Society.

Workshop Details:
BASIC PAINT LIST
Cadmium Red Light
Cadmium yellow medium
Ivory Black
Ultramarine Blue
Quinacridone or thalo Rose, also called "permanent rose"
Alizarian Crimson
Ultramarine Violet
Cerulean Blue
Cobalt Blue
Permanent Sap Green
Yellow ochre deep or regular
Van Dyke Brown or burnt umber
Titanium? Zinc White blend called mixed white sometimes
COMPLETE LIST (ADD THESE AS YOU CAN, IF YOU WISH)IN ORDER OF USEFULNESS
Cadmium Lemon yellow
Dioxazine Purple
Phthalocyanine Blue
Napthol Red
Manganese Violet
Phthalocyanine Blue Lake
Phthalocyanine Blue
Transparent Oxide Red (Trans oxide brown)
I like Holbein, Richeson's Daniel Smith Line, Gamblin, Old Holland, Williamsburg and Michael Harding paints.

You'll need many panels/canvases. These can be professionally or personally gessoed or linen panels. If you gesso your own, I suggest Golden "hard-sandable" gesso. No house painted panels, no "clayboard" panels. I find Ampersand reliable. (Don't bring a surface you are not used to.) Sizes 11X14, 12X16 -a total of 4-6 is typically plenty. Variations per workshop will be noted per workshop.

Brushes – bring a mix of good brushes number 2-12 in Filberts & brights-Hog Bristle, badger hair (royal langnickel) smaller sable rounds, and synthetic filberts. Bring some sable rounds 1-6 sizes – bring any additional old favorite brushes.

Round shouldered painting knife, odorless mineral spirits (Gamsol best) If you are flying, Ill bring the OMS for you. Paper towels are on the house. Don't buy what is called Odorless Mineral Spirits substitute" its wrong for our needs and stinks. Travel outdoor easel or "French easel"…tabletop easel fine for most studio classes.

Water tight solvent can.

Please email me with any questions.

Gabriele Baber – Saturday, May 4, 8am-2pm, $75 per student.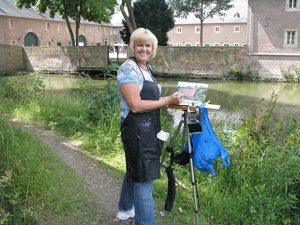 German born artist Gabriele Baber has been an artist all her life. Years of study at the University level, and study with prominent artists, such as David Leffel, Richard McDaniel, Daniel Greene, Brenda Swenson, Tom Lynch, Robert Burridge, Chris VanWinkle, JoAnna Arnett, Elizebeth Tolley, Greg LaRock, Colley Whisson, and others too numberous to mention have helped to develop Gabriele's skill level to the proficiency that it is today. With a broad range of study, Gabriele's work shows a high level of skill in a variety of mediums.

Gabriele's work expresses her passion for painting through the use of exciting, vivid color and drama. Whether working in oil, acrylic, watercolors, or pastel, plein air or in the studio, Baber paints with an eye for dramatic color, and expresses herself through her art, painting realistically with an expressionistic flair.

As an artist and teacher, she encourages her students to express themselves through art, focusing on the process, not the product. Through gentle critique and positive reinforcement, her students are able to find their own style and voice in their art.
Recently, due to her husband's retirement, Gabriele has relocated from a long time residence in California, to Lake Saint Louis, MO where she continues to work as a freelance artist.

Workshop Details:
additional info tbd